•   Son Monument des Combattants
•   Son Ouvrage Commémoratif (musée)
•   Ses vestiges de la guerre 14-18 à jamais inscrits dans le sol
•   Ses Entonnoirs de Mines
•   Ses Installations Françaises et Allemandes en surface et souterraines
•   Son exposition permanente consacrée aux blocs béton
•   Un Panorama unique (Altitude 290m)
FREE TOUR
Surface tours are free and open all year. The museum is only open on days when tours are organized.
GUIDED TOURS
The guides of the association welcome and pass on their knowledge to almost 8000 visitors every year. They will show you, in addition to the outside of the mound; the German and French underground installations as well as the museum. Guided tours are organized :
•   The first Sunday of every month at 9h30a.m, last departure tours at 11 a.m
•   The 1st and 8th May of each year (open days from 10 a.m, last departure 5h30 p.m)
•   In September each year during "Heritage Days".
FOR GROUPS (minimum 10 people), possible visits to other dates, booking by phone or email here.
DEEP GALLERIES :  for the daring ones, the most comprehensive tours are offered. Given the configuration of the site (narrow passages, steep galleries), it is best to have a good physical condition and not to be claustrophobic. Two dates are proposed, in March and September. Visit the page life of the association to know them. Reservations are required.
ALL TOURS ARE FREE FOR MEMBERS.
Price guided tour (2 to 3 hours) : 3€/person
Reduced guided tour (in military uniform) : 1,5€/person
Price deep galleries (the day) : 5€/person
The departure of the visits is made from the hill at the car park.
SCHOOL VISITS
(Appointment required)
The human suffering caused by the devastating conflict on this mound of Vauquois is beyond understanding. We, therefore, ask the teachers to tell their students that a respectful behaviour is expected during the visit. To best prepare activities related to this event, a teaching guide is available at the price of 5€ (+shipping on the page Bibliothèque.)
School visit price : 1,5 €/child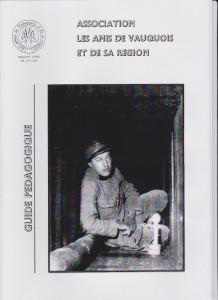 For more informations, contact us.